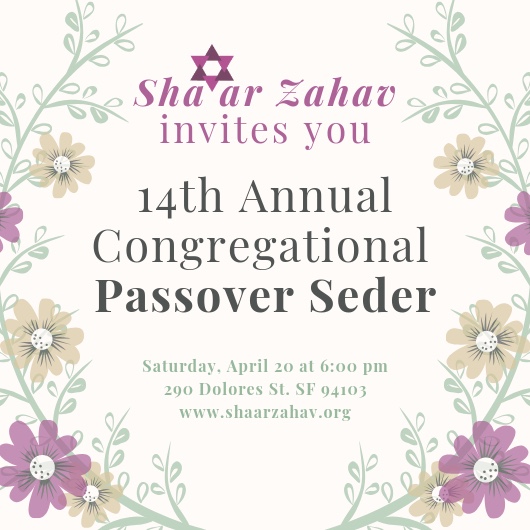 Sha'ar Zahav's "Homemade" Passover seder is back for its fourteenth year!
Celebrate Pesach with our community at our Congregational Seder. Bring your family, friends and a Kosher for Passover side dish (enough for 6-8 people). We will provide a roast salmon entrée. Advance registration required and space is limited.
---
Fragrance-Free Environment
In order to support attendees who are physically harmed when exposed to chemical fragrances (difficulty breathing, migraines, flu-like symptoms), please do your best to follow these guidelines:
Refrain from wearing perfume/cologne (we know some of you love perfume…but you'll have to rely on your good looks)
Check your various products to see if there is a fragrance free version available and/or try to use them at least a couple of hours before coming to Sha'ar Zahav to give time for the fragrance to wear off.
Switch to fragrance-free laundry detergent and softener (it works just as well and is the same price!
For more information on this subject, including why it's important and a list of Fragrance-Free products, please visit: eastbaymeditation.org