Happy Hanukkah 2019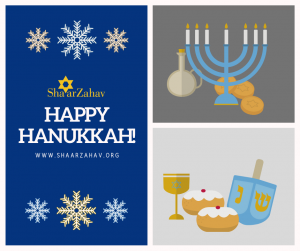 Hanukkah Giveaway: Click here for a chance to win!
To RSVP for one or all our Hanukkah events, click here.
---
Friday, December 13
6:30 pm      Shabbat Dinner Buffet (RSVP space is limited)
7:30 pm      Klezmer Service
8:30 pm      Oneg, more music and dancing
Come for an evening that will nourish your soul! Our Klezmer Shabbat is a night for everyone – a night of eating, singing, dancing and davening.Join Cantor Sharon Bernstein on voice and piano, Stuart Brotman on bass, Sheldon Brown on clarinet, Josh Horowitz on accordion and tsimbl, and Bruce Bierman on feet. The shul will soar to plaintive and uplifting tunes of klezmer music and joyful rhythms.This evening is dedicated to the memory of Larry Tannenbaum, z"l, whose memory brings great heartbreak and great joy!
*According to Wikipedia, "Klezmer is easily identifiable by its characteristic expressive melodies, reminiscent of the human voice, complete with laughing and weeping."
---

Hanukkah in the Castro
Wednesday, December 18 at 6:00-7:00 pm
Jane Warner Plaza: Corner of 17th/Castro/Market
Join us for our annual menorah lighting in the Castro. We'll sing songs, play dreidel, and eat sufganiyot in community! Co-sponsored by the Castro Merchants Association.
---

Light One Candle: Pre-Hanukkah Shabbat
Friday, December 20 at 7:30 pm
Join Rabbi Copeland and new member song leader, Daniel Stellini for Shabbat with a Hanukkah flavor! Including music from the a cappella group, Naked Voices. We'll sing a long to some of your Hanukkah favorites to get you ready for the holiday (which starts Sunday, December 22).
---

Saturday, December 21 at 10:00 am-12:30 pm
It's a holiday adventure for people of all ages! We'll begin with a quick Festive Hanukkah Shabbat morning service including Hanukkah singing and stories. Then…choose your own adventure:
All kinds of Latke making
All kinds of Candle making
Dreidel Design Challenge
Storytelling & Storymaking
Maccabee Text Study (for ages 12+)
We'll close with Latke eating and dreidel playing. Get ready for Hanukkah at Sha'ar Zahav! Please bring a new or gently used book for ages 4-9 to contribute to our Chanukah Book Drive.