Our Staff
Clergy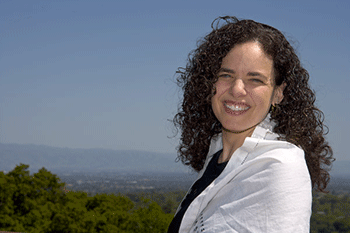 Rabbi Mychal Copeland
As I was looking forward to beginning my service as your rabbi and ending my position with InterfaithFamily, I reflected on the wandering of our people in the desert which we read in the Book of Numbers.
It is no accident that we coalesce into a people while we are wandering between places. The wilderness is a place of liminality, in-between realities.
The Book of Numbers opens with a mandate to take a census of the Israelite community through its ancestral houses. We are commanded to count people, and since the giving of this commandment, we have become quite astute at counting ourselves, usually with a good dose of worry about whether those numbers are as great as we hope them to be.
This practice of counting people is meant to teach us something else: we count ourselves to remember that every person counts. The meaning in counting every soul is that we become a community only when we feel truly recognized as individuals.
A theme in my rabbinate has been working with people who do not feel counted. The flip side of that commitment has been working to change the climate of the Jewish community to examine what scares us and threatens us about inclusion. We can quit paying lip service to how welcoming we are and get down to the real work of appreciating the strength in our diversity. I am honored to be beginning on this path with Sha'ar Zahav, a community in which people offer their energies to create something profound, radically inclusive, and sacred.
For the last several months, I have been in my own time of counting – counting down the days until Sha'ar Zahav would become my spiritual and rabbinic home. And Sha'ar Zahav has been in its own period of transformation and transition for the past few years.
I am looking forward to meeting each member of our community, both adults, and children, to understand and appreciate your dreams and goals. Thank you for inviting me on the journey as we wander through the wilderness
together.
– Rabbi Mychal Copeland
Rabbi Mychal Copeland speaks and writes about the inclusion of LGBTQI people and interfaith families in religious life.  She is the co-editor of Struggling in Good Faith: LGBTQI Inclusion from 13 American Religious Perspectives [Skylight Paths Publishing, 2015]. Prior to joining Sha'ar Zahav, Rabbi Copeland was the Director of InterfaithFamily Bay Area where she helped couples navigate a diversity of religious and cultural backgrounds.  She served for thirteen years as a university Rabbi, first at UCLA and later at Hillel at Stanford University.  She earned a Masters in Theological Studies and Secondary Teaching Credential from Harvard Divinity School in 1995, and a rabbinical degree from the Reconstructionist Rabbinical College in 2000.  She is the founder of a national Rosh Hodesh (new moon) project for teens, It's a Girl Thing,that celebrates the monthly lunar cycle and strengthens teen girls' self-esteem and spirituality with over 100 groups around the country.  In 2005 she was recognized as being an Exemplar of Excellence by Hillel's International Center, the highest individual honor for Hillel professionals. She served as the Cooperberg-Rittmaster Rabbinic Intern at Congregation Beth Simchat Torah in New York City, the world's largest Jewish LGBTQ community and has carried that work into her career with college students.  Mychal is a certified yoga instructor and fuses Jewish spirituality with movement in her yoga teaching.
Her articles include "The Next Frontier for LGBTQI Inclusion: Engaging Religion," in the Huffington Post, "Like King and Heschel" in Sh'ma Journal of Jewish Ideas, and "Beyond Tolerance: Helping Religions 'Come Out,' in Religion Dispatches.  Her chapter in the book, Expanding the Circle: Creating an Inclusive Environment in Higher Education for LGBTQ Students and Studies is entitled, "Intersections: A Guide to Working with LGBTQI University Students of Minority Religions or Culture" [Suny Press, 2104]
Mychal is passionate about opening the doors of religion wider and leading people towards a profound spiritual and religious life that embraces all of their disparate identities.
Contact Rabbi Copeland at rabbi@shaarzahav.org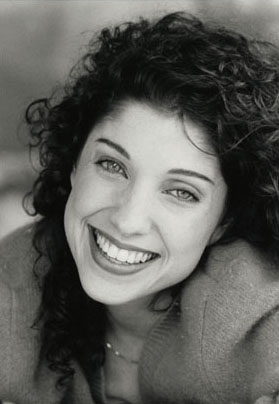 Cantor Sharon Bernstein
Cantor Sharon Bernstein, a native of California, grew up in Palo Alto, where she frequented Conservative synagogue Kol Emet and graduated from Palo Alto High School. An avid musician from a young age, she studied piano and voice, performing in concerts, operas, and musicals through junior and high school. Her musical studies continued at the University of Redlands, where she graduated in Voice and Piano. While in college, she took an active role in the local Jewish community and Hillel, sparking an ever-growing interest in Jewish music and prayer. After graduating, she served as the High Holy Day cantor for Arizona State University, and then as part-time cantor for Temple Beth Haverim in Agoura Hills and Congregation Sha'arei Torah in Arcadia while working for Alfred Publishing Co., Inc. as their International Sales Manager. During this time, she studied with local cantors, worked at her Hebrew, started writing music on Jewish themes, and became increasingly more interested in Jewish music and liturgy. Her life took a turn in 1999, when she enrolled in the H.L. Miller Cantorial School at the Jewish Theological Seminary. She spent a year in Jerusalem and the two following years in New York City. In 2002-2003 she devoted her last school-year to doing research for her MA Thesis (The Italian System for Chanting the Torah According to the Torino Tradition) and served as an instructor in Hazzanut for the JTS Cantorial program in Jerusalem.
Israel and Jerusalem proved extremely inspiring to her both in the discovery of the richness of the Jewish musical traditions and in the shaping of her parallel career as a Yiddish performer.  Through the wondrous resources of the Hebrew National University, she has been able to learn melodies from a wide array of traditions – Sephardic, Ashkenazi, Italian, Hasidic – to teach and sing with the congregation, and to perform Yiddish songs which are little known.
As a Yiddish performer, she has presented in venues such as RAI National Italian Radio, the Ancona Klezmer Music Festival (Italy), the Center for Jewish History, the Berkeley Jewish Music Festival, and Yung YiDish, Jerusalem; has taught in the Vilna Summer Yiddish Program and KlezCalifornia; and recorded several of Beyle Schaechter-Gottesman's songs on her album:  Af di Gasn fun der Shtot.
Her compositions include ditties on Jewish themes (such as The Heir and the Hair), music for the synagogue, and settings for several Yiddish poems, and she has a particular love for teaching and mentoring folks of all ages.
She joined Sha'ar Zahav in 2007, and is thrilled to have the opportunity to work and grow with such a warm, vibrant, and passionate community.
Staff
Heidy Zohar Ramirez
I am thrilled to be a part Sha'ar Zahav as your Director of Engagement. I am eager to get to know the community better and take forward action towards enriching the Sha'ar Zahav experience. I plan on ensuring member needs are met and engage fresh new faces – all while having fun! I grew up in Los Angeles and completed my undergrad at American Jewish University. Traveling through Israel with Birthright was influential in my participation with Jewish organizations, Mazon, Netiya, Ikar, and the Westside JCC. I interned for the business development team at the Progressive Jewish Alliance and was fortunate take part in Bend the Arc's enriching Jerimiah Fellowship program in Los Angeles. I spent the last three years in the for-profit sector working in institutional asset management. I am new to San Francisco and look forward to being very active in the Bay Area Jewish community.   – Heidy Z. Ramirez
Contact Director of Engagement at heidy@shaarzahav.org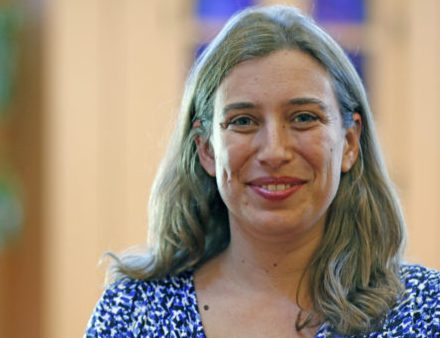 Leeaht Segev
I am so excited to have joined the team at CSZ! It is a delight to be part of such a wonderful community. I started my Jewish career as the Family Programs Director at the Contra Costa JCC. I then spent three years as both the Religious School Administrator at Beth Chaim Congregation in Danville and the Administrator for OHALAH, the National Association for Jewish Renewal. During my time there, I helped with the transformation and restructuring of the Hebrew School. I also assisted with the planning and running of two national conferences for OHALAH that were attended by over 300 people. I spent the last year as the Interim Co-Director of Education at Congregation B'nai Tikvah in Walnut Creek. In addition to my work in the Religious School, I have also created many new programming opportunities.  I have  found such a deep love and passion for working in the Jewish community.
Contact Leeaht at education@shaarzahav.org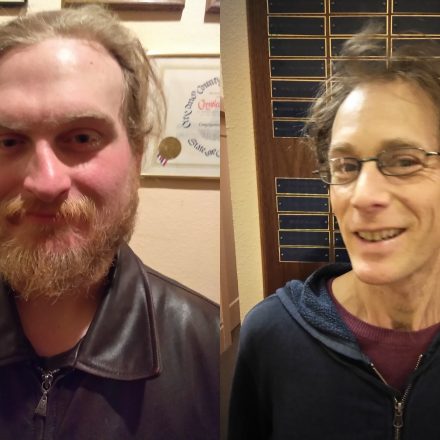 Jason Ashworth and Matthew Diana
Matt and Jason make up our facilities staff. They work at Sha'ar Zahav to ensure a clean environment and enable all of our services, holidays, ceremonies, bnei mitzvah and more are set-up to CSZ's standards. In their spare time, Jason is practicing to become a professional billiards player and  Matt has two other jobs.