Our Siddur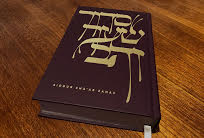 SIDDUR SHA'AR ZAHAV is a prayerbook that reflects our modern lives, our yearnings and our power to bring healing to ourselves and to others.
Created in 2009, Siddur Sha'ar Zahav speaks directly to experiences which are not found in other published siddurim — prayers for being single, contemplations for nonbelievers, and blessings for coming out of dark places. It engages traditional Jewish liturgy and goes beyond. It is also a complete LGBTQ (lesbian, gay, bisexual, transgender and queer) and egalitarian Jewish prayer book. It is for those who are learning prayers and those who are deeply knowledgeable.
There are powerful sections with:
Blessings (Brachot) for many occasions, daily life and life-cycle events
Remembrances (Chesed V'Emet) for synagogue, graveside and home use
Multiple readings for Pride Shabbat and Transgender Remembrance Shabbat
Songs (Shirim/Z'mirot) from our world-wide Jewish heritage
Designed for both individual and communal use, Siddur Sha'ar Zahav is a must-have resource for individuals and clergy – both Jewish and non-Jewish.
We invite you to experience it yourself at our services, read more about it, or reserve a copy for your own use.
Currently, we are out of stock! However, please join us in our People of the Book Campaign  or reserve your copy now for when Siddur Sha'ar Zahav becomes available in March 2019.
---
More About Siddur Sha'ar Zahav
Siddur Sha'ar Zahav is the first LGBT Prayer Book for every occasion. It includes:
Services for Shabbat evening and morning, weeknights, and all the Jewish holidays

Diverse liturgy with educational commentaries

Hebrew, English and transliterations of every prayer

New readings that reflect contemporary Jewish life

Egalitarian and LGBT-inclusive translations

Expressive art and photographs
Siddur Sha'ar Zahav is the first truly embracing 21st Century siddur with:
Entirely new translations of ancient texts

Blessings for non-traditional families

Readings on discovering your sexual orientation

Prayers for non-believers and agnostics

Essays that re-imagine our most cherished texts

A marriage equality blessing

Jewish poetry from all over the world

New Prayers with LGBTQ themes

Commentaries relating liturgy to our lives today
We appreciate your interest in Siddur Sha'ar Zahav. We are in the process of raising funds for a reprint.  If you would like to support our "People of the Book Campaign," you may do so by clicking here.
We anticipate siddurim will be available March 2019.   You may pre-order copies for $54 plus tax and handling. Be among the first to receive Siddur Sha'ar Zahav when it becomes available!