Our Siddur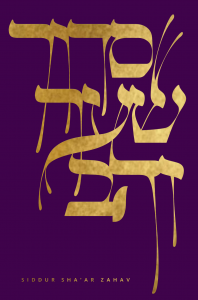 SIDDUR SHA'AR ZAHAV was created in 2009, it speaks directly to experiences which are not found in other published siddurim — prayers for being single, contemplations for nonbelievers, and blessings for coming out of dark places. It engages traditional Jewish liturgy and goes beyond. It is also a complete LGBTQ (lesbian, gay, bisexual, transgender and queer) and egalitarian Jewish prayer book. It is for those who are learning prayers and those who are deeply knowledgeable.
There are powerful sections with:
Blessings (Brachot) for many occasions, daily life and life-cycle events
Remembrances (Chesed V'Emet) for synagogue, graveside and home use
Multiple readings for Pride Shabbat and Transgender Remembrance Shabbat
Songs (Shirim/Z'mirot) from our world-wide Jewish heritage
Designed for both individual and communal use, Siddur Sha'ar Zahav is a must-have resource for individuals and clergy – both Jewish and non-Jewish.
Looking for readings for a Pride Shabbat or other celebration? Find these and many more in Siddur Sha'ar Zahav:
p.6 B'tzelem Elohim
p.15 Upon seeing a Rainbow
p.19 On Holiness
p.20 For Coming Out
p.21 Exotic Fruit
p.21 For Queer Elders
p.24 The Mystery of Pink and Blue
p.77 Freedom, Love, Gratitude
p.79 We Cry Out
p.83 I am Unique
p.87 God Scooped Up Some Dust
p.87 Rainbow
p.88 For LGBTQIQ People
p.105 Let There Be
p.149 Twilight People
p.165 Geulah — "God did not lead us by the nearer way"
p260 A Queer Amidah
p469 Queer Mi Shebeirach
p486 Queer Aleinu
p.491 Communal Prayer of Remembrance
---
Siddur Sha'ar Zahav (Ebook/PDF version) is available for purchase for $36 plus tax. Click below to access your electronic copy online. You will be re-directed to Siddur Sha'ar Zahav upon completing your purchase.
*After submitting your payment, make sure to click "return to merchant" to be routed to the Siddur*
---
Siddur Sha'ar Zahav (hardcover version) is available for purchase for $54 plus tax and $10 handling cost. Click below to order your copy online or mail your payment to Sha'ar Zahav, 290 Dolores Street, San Francisco, CA 94103. For international orders, please contact our office at 415-861-6932.
---
More About Siddur Sha'ar Zahav
Siddur Sha'ar Zahav is the first LGBT Prayer Book for every occasion. It includes:
Services for Shabbat evening and morning, weeknights, and all the Jewish holidays

Diverse liturgy with educational commentaries

Hebrew, English and transliterations of every prayer

New readings that reflect contemporary Jewish life

Egalitarian and LGBT-inclusive translations

Expressive art and photographs
Siddur Sha'ar Zahav is the first truly embracing 21st Century siddur with:
Entirely new translations of ancient texts

Blessings for non-traditional families

Readings on discovering your sexual orientation

Prayers for non-believers and agnostics

Essays that re-imagine our most cherished texts

A marriage equality blessing

Jewish poetry from all over the world

New Prayers with LGBTQ themes

Commentaries relating liturgy to our lives today
---