Lay Leaders
Sha'ar Zahav is shaped by its members who tirelessly dedicate time and effort to create a close-knit community that celebrates the sacred in each and every one of us. Find out a bit about the lay leaders serving on Sha'ar Zahav's Va'ad, or Board of Directors.
Executive Committee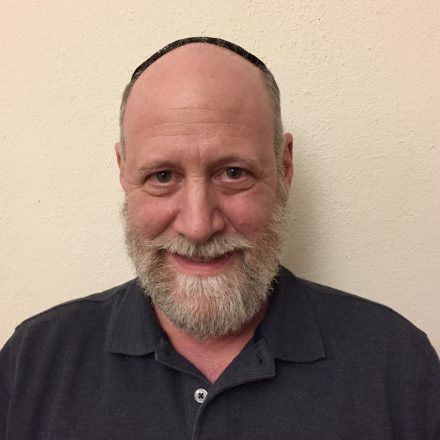 Marc Lipschutz
President
In 1980, I arrived in San Francisco, davened at Sha'ar Zahav during my very first Shabbos in the City and throughout the summer, and became a member prior to Rosh Hashanah.
I was raised in a Jewish home with first generation American values.  Yiddishkeit (the Jewish way of life) permeates my identity and influences my work.  As a social worker, I enter into the lives of children and their families during times that are frequently painful for them, and quietly pray that our time together will initiate healing.
Mentoring b'nei mitzvah students, youths and adults, has been extraordinarily fulfilling, as we transmit Yiddishkeit together and ensure the future of Judaism.  At Sha'ar Zahav I experience a community that shares my Jewish values of inclusiveness and social justice, and thrive among so many people who I greatly love and who love me dearly as well.
My CSZ objectives include sustained fiscal health and transparency, increased physical and technology-related security in harmony with our warm and welcoming ambiance, an enhanced online presence, and a safely orchestrated reopening adhering to best public health practices and science. These objectives support our preeminent goals of Torah study, sanctified service, and acts of loving kindness, which we initiate for CSZ to become a house of prayer for all people. 
I seek help from HaShem and respectfully request your active support. And throughout our holy CSZ partnerships, created together to achieve these goals.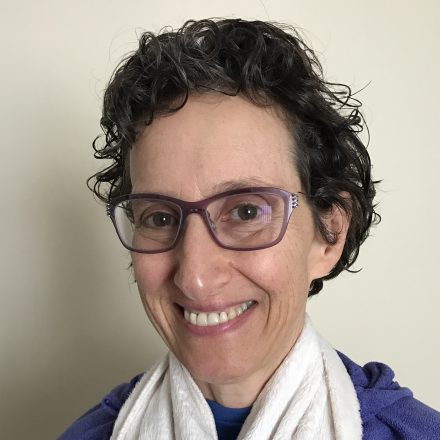 Nancy Levin
Immediate Past President
When I moved to San Francisco, I came to Sha'ar Zahav because I needed a place to go for the High Holidays. I was delighted to find a queer-identified synagogue where people could be celebrated for who they are. And, of course, my parents were thrilled that I joined a shul. What I gained over the last 20 years is a community that is there for me. The more I participate through volunteering, showing up at events and meeting new people, the more connected I feel. That's why I am so honored to be nominated to be your President. I am excited about helping everyone in our community to find their special connection to Sha'ar Zahav, as I did. Maybe it's baking for the oneg, co-leading services for the first time, visiting a sick member, setting up our Sukkah in Dolores Park,  participating in social justice programs, joining Beit Sefer students during morning circle, or just sitting quietly at the back during services-large or small, any connection is meaningful and there is no 'right' way. I look forward to welcoming visitors, connecting with new members and continuing to build relationships with those I have known for years, to lead our community into what's next. In my professional life, I work at the U.S. Environmental Protection Agency. I served as executive director of not-for-profit agencies working on environmental and women's health issues. I'm fortune to have work that resonates with my values and to be able to pursue my other passions such as cycling.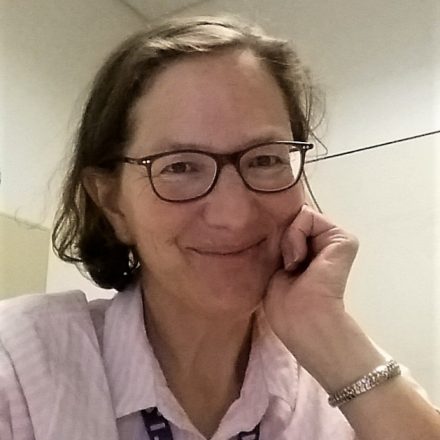 Sara Haber
Vice President
I appreciate the opportunity to serve my congregation as a Va'ad Vice President.
I've been a member of Sha'ar Zahav since the early 1990s and served on the Dues, Membership, Social Action and Nominating Committees. It's been my honor to serve on previous Va'ads with presidents Diana Bookbinder, Arthur Slepian, Ora Prochovnick, James Carlson, and Nancy Levin.
In recent years, I've had the pleasure of helping to run High Holy Day logistics, both in-person and remote versions! I have organized volunteers for our second night Passover Seder and coordinated the wonderful volunteers that normally greet you before services. I have had the blessing of being part of Sha'ar Zahav's first Chevra Kadisha and, during the pandemic, I've been working with Liliana Peliks to coordinate Tech Support for our synagogue Zoom services and events. (Talk to me about joining this essential team!)
I cherish the ways in which our community brings challenges as well as joy and inspiration to my life.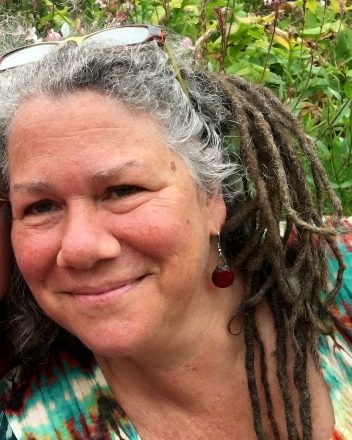 Deborah Levy
Vice President
I joined Sha'ar Zahav when my sons were 6 and 9. They are now 28 and 31. The community was an important support to me through the years of their Jewish education, and through each of their b'mitzvah ceremonies. My own roles in the CSZ community change over time, but Sha'ar Zahav remains both a buoy and an anchor in my life.
I want to do what I can so that children and adults of any age can continue to be nurtured in our inclusive Jewish environment – sometimes together!
Much of my engagement with our shul (synagogue) is through social action; I currently chair the Climate Action Committee, and am involved with our Racial Equity and Social Action Committees as well. I also work with our Building Community in considering how best to maintain and configure our physical space (290 Dolores) to match our community needs, and to reflect our concern for the planet.
I recently completed one year as CSZ Vice President, and prior to that two years as CSZ Recorder. In the early 2000s, I was an active member (and Chair) of the Beit Sefer Phyllis Mintzer Board. I recently retired after 28 years teaching ESL at City College (CCSF); I also serve on the Advisory Board of Eco-Peace Middle East, and I'm always looking to support equity and environmental sustainability in Israel and here in the Bay Area.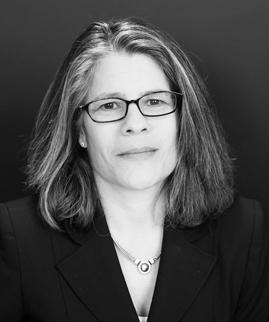 Beth Ross
Vice President
I have been honored to serve Sha'ar Zahav as Vice President for the past year and am honored to be nominated to serve again.
I have been a member of the shul for three decades. My children (Maia -24 and Elias – 22) were born into this community and raised here. My spouse (Laurie) and I had our Great-Big-Jewish wedding in the Sha'ar Zahav tent. Our entire family has participated fully in the life of the Congregation in one way or another including the Beit Sefer Phyllis Mintzer, baseball Shabbat, committees, social events, and various leadership roles. I am a lawyer by trade and have many avocations that keep me amused.
I previously served for 6 years on the dues committee, 4 years as an at-large member of the Va'ad and two years as a Vice President and member of the Executive Committee (through 4 Presidents). I have mentored three B'nei Mitzvah students on their d'rashes with a 4th waiting in the wings. I am currently the Chair of the Building Committee and will be serving on the taskforce to reopen our building when the time is right. I love this community and can't imagine life without it! I look forward to continuing to serve as Vice President in this challenging moment in time, and am grateful for the opportunity.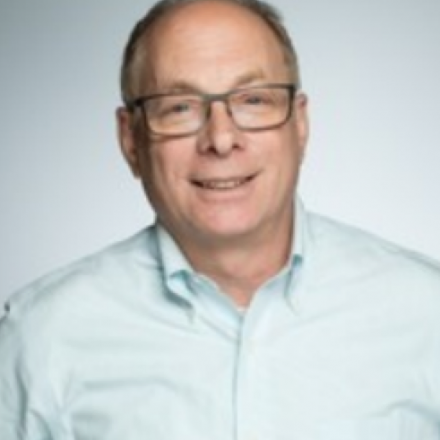 Andrew Berger
Treasurer
In recognition of the commitment, dedication, and years of service of our lay leaders past and present, I am honored to step into the position of Treasurer this year.
I moved to San Francisco in 2013 from New York City, where I was an active member of Congregation Beth Simchat Torah (CBST) for ten years, serving on the Middle East and Me Committee, the Retreat Planning Committee, and singing in the CBST Community Chorus.  One of the highlights of my years at CBST was my first trip to Israel, a congregational trip in summer 2016 to participate in World Pride in Jerusalem. There, we met up, studied, and celebrated with a CSZ contingent including Karen Schiller and Marc Lipschutz.
I have been a member of Sha'ar Zahav for five years and have participated on occasion as a service co-leader and on the Ritual Committee. I sing with Golden Gate Men's Chorus, and currently serve on their Board as Fundraising Chair. I have also served as Board Member and Treasurer of Discovery Community and the Arts Education Alliance of the Bay Area.
The bulk of my professional career has been spent running education and community engagement programs for performing arts organizations including San Francisco Opera Guild here, and back east for the Chamber Music Society of Lincoln Center, Tilles Center for the Performing Arts on Long Island, and New Jersey Performing Arts Center in Newark. I changed course a few years ago to work in resource development, first at City College of San Francisco and then at The Contemporary Jewish Museum. I began a new job this past January as Institutional Giving Manager at Glide.
In my spare time I like to cook, bake, bike, read, write, play competitive bridge, and sleep.
The last place you could expect to find me… is at Levi's Stadium or the Levi's Store; nothing against Levi's but I don't like football and only shop at discount stores (and Goodwill).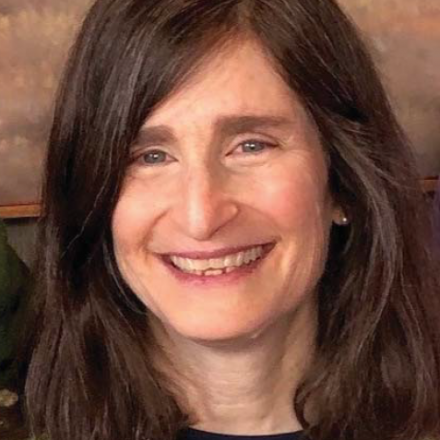 Amy Schustack
Recorder
It has been an honor and a pleasure to serve on the Va'ad for a second year – this year as Va'ad Recorder – following my first Va'ad term as an at-large member. Serving our community through my Va'ad participation has been a wonderful experience, drawing me closer to Sha'ar Zahav, and to the gifts of inspiration, resourcefulness, creativity and resilience that are at the heart of our amazing community.
I joined Sha'ar Zahav fifteen years ago. It's been a joy to participate in different aspects of congregational life over the years. Early on, I volunteered with membership outreach and social action. In more recent years, I've experienced great joy from singing with other Sha'ar Zahavniks in our vibrant Sha'ar Zahav chorus, studying collaboratively in various adult education programs and courses, and helping to plan meetings and events about a range of topics. As of this year, I am also a member of our congregation's Reopening Task Force as well as the Planning Committee. And I have a deep, long-standing commitment to Beit Sefer Phyllis Mintzer (our synagogue school), and it has been a great pleasure to serve on the Education Committee for many years, most recently as the Va'ad liaison to the Education Committee.
I look forward to continuing to contribute to our community in my second year as Va'ad Recorder, and to growing into new opportunities to help nurture, enrich, and sustain our wonderful shul!
Board Members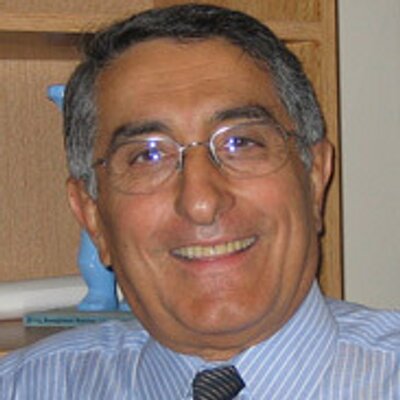 Pierre Adida
Board Member
My wife Yvette and I joined Sha'ar Zahav in 2017 after attending the High Holidays for a couple of years with our friends Jane and Michael Rice. We enjoyed the High Holidays services, the friendly ambiance, and we found the prayers and the songs, to be warm and welcoming.
I am the second of 5 children from a Sephardic Jewish family from Algeria, who emigrated to France in 1961. Yvette is the only daughter of Ashkenazi Hungarian Jews who left Hungary to France in 1939. They lost all their relatives in Auschwitz.
We are not very observant, but we feel the need to belong to a welcoming Jewish Congregation where we can find the same roots and heritage as those of our respective families. As a former Executive of international companies, I will be able to help with my business experience and culture, while sharing my French and Sephardic backgrounds in cooking and drinking.
We emigrated from France to the USA in 2005 to be close to our 3 children and 4 grandchildren. Being both retired, we love traveling, cinema, and outdoor activities. California is for us our new homeland. I am fond of politics, economy and history. Yvette loves art, music, reading, and she is an amateur live theater actress.
I look forward to getting more involved in CSZ life, but the last place you could expect to find me … is singing in the CSZ choir.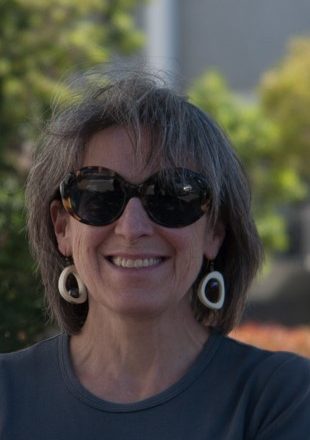 Ann Daniels
Board Member
I came to Sha'ar Zahav in the late 1980s and became a member in the early 1990s, when Rabbi Yoel Kahn called my husband, our daughters and me an "alternative family" (a designation that still delights us!). Being part of Sha'ar Zahav has been central to our children's upbringing and our family's values.
I grew up in Manhattan culturally Jewish but not knowing much more than the Passover ritual, and I learned my aleph bet and more at Sha'ar Zahav's adult education classes and through volunteering at Beit Sefer Phyllis Mintzer. The love and support I received from my fellow Sha'ar Zahavniks during my mother's illness and death a few years ago reminded me again how important it is to me to be part of this community. During the pandemic, I was honored to be one of the creators and leaders of Sha'ar Zahav's Hineni Caring Community – I'm deeply grateful for the friendships, old and new, that this work has given me. I'm also on the Disability and Accessibility Committee and I pop up here and there doing various other things at Sha'ar Zahav.
Outside of Sha'ar Zahav, I'm retired from a checkered career including practicing law, reproductive rights advocacy, and teaching adult and family literacy. I write a political activism blog and newsletter, and I sing in a sacred music chorus for which I also write the concert program notes – ask me for a copy of my essay "What's a Nice Jewish Girl Doing Singing Bach's St. John Passion?" Sha'ar Zahav has helped me learn that we thrive in a community where we can be at home as ourselves, a place where our value is realized.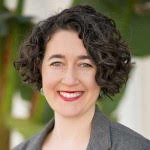 Meagan Fox
Board Member
I discovered Sha'ar Zahav shortly after moving to San Francisco from Oregon in 2007, and was impressed by this vibrant, welcoming community – right in my new neighborhood. My now-husband Marty became a member as he was preparing for his adult Bar Mitzvah.
We've celebrated two baby namings here. As parents of young children we attended family High Holiday services, and then found our way to Beit Sefer Phyllis Mintzer. Having grown up in secular families, we didn't really know what to expect from a "synagogue school" and were delighted to again discover a warm, inclusive, and engaging community here at Sha'ar Zahav.
I work as a product manager for a non-profit whose mission is to amplify the power of philanthropy to end the climate crisis.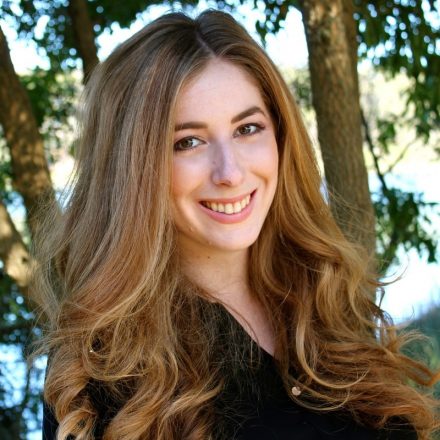 Rachel Nilson Ralston
Board Member
I am thrilled to be serving the Va'ad through the Federation Fellowship, which places emerging Jewish leaders with local Bay Area organizations to learn about nonprofit decision-making and community-building. This is an especially meaningful opportunity for me, since Sha'ar Zahav is also my Jewish spiritual home. I joined as a congregant in 2017 alongside my husband Ricky, because Sha'ar Zahav encompassed our values and needs. As a couple that comes from different religious and ethnic backgrounds, we needed a place where Ricky's choice to become Jewish would be nurtured and celebrated, where our queer family and friends would be valued, and where our feminist/egalitarian expressions of spirituality would be encouraged. (We also love Rabbi Copeland, who married us in 2016!) By day, I work as the Assistant Director of San Francisco Hillel, an organization that supports Jewish student life on the college campuses across the city. It's where I was activated as a student leader in college at San Francisco State, and where I was encouraged to pursue dialogue/conflict resolution skills relating to Israel-Palestine and build a Jewish community that reflected the beautiful diversity of Jewish peoplehood. When I'm not at Hillel, you can likely find me exploring the hiking trails of my neighborhood in Mill Valley, attempting to craft, or eating burritos with Ricky.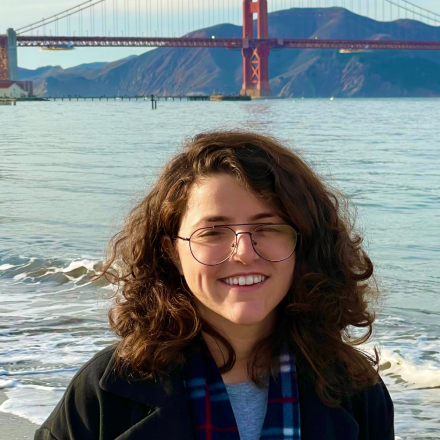 Emily Ornelas-Dorian
Board Member
I'm proud and thankful to be joining the Va'ad at Sha'ar Zahav. I joined CSZ for High Holy days in 2017. I was enamored by the community and just had to join this amazing family. Since then, it has been a joy to be a part of Sha'ar Zahav. I've been involved with helping the Young Adult group, known as the Kaf Lameds. I'm passionate about ensuring that the future of Sha'ar Zahav is secured by today's young adults! I am also engaged in the reopening committee for covid-19, and I work on the Siddur marketing committee where I help with the designs and social media.
I hope to bring some of these experiences to the Va'ad, and specifically to communicate the needs of our young adult community and collaborate to find ways to help young folks feel welcome. I also hope to bring my mixed Ashkenazi-Mizrahi lens to the Va'ad, as my Lebanese identity is as important as my Jewish identity.
When I'm not in community, I enjoy playing guitar, exploring new restaurants, and cooking dishes that incorporate all my cultures. I live in the Sunset district with my wife, Carolina, who is an ER doctor at UCSF.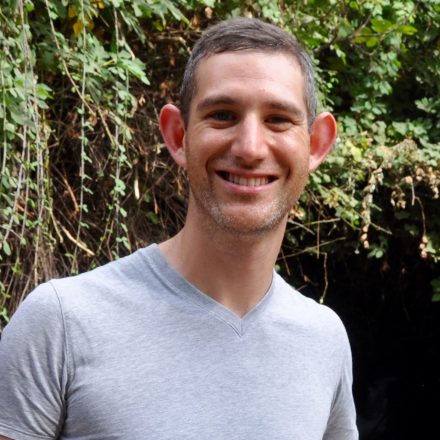 Adam Pollack
Board Member
I fell in love with Sha'ar Zahav in 2016 when I was working at the synagogue. I realized that this community was a manifestation of its members' deepest held values and beliefs. And, I shared them and wanted nothing more than to participate in its growth and vibrancy. Since that time, I've served on the Va'ad Nominating Committee, led services, gave drashes, among other ways of giving back.
Outside SZ, I work as the Associate Vice President, Hillel Grants at Hillel International, where I oversee the Hillel Talent Grants program focused on recruiting, retaining and training Hillel's 1200 professionals. Additionally, I work across the organization's 20 grant programs to measure impact, streamline processes and ensure a relational approach to our grant-making across the organization. Previously, I served in positions across the Jewish community including at Birthright NEXT, the Covenant Foundation, the Jewish Theological Seminary and at Sha'ar Zahav! In a lay capacity, I serve as the local Leadership Council Chair for 18Doors, an organization dedicated to the inclusion of interfaith families in the Jewish community.
In my spare time, I can be found running trails across the Bay Area and hanging out with my husband, Nathan, and our dog, Stewie.
The last place you could expect to find me… is at a chocolate factory–yes, I'm that guy who doesn't like chocolate.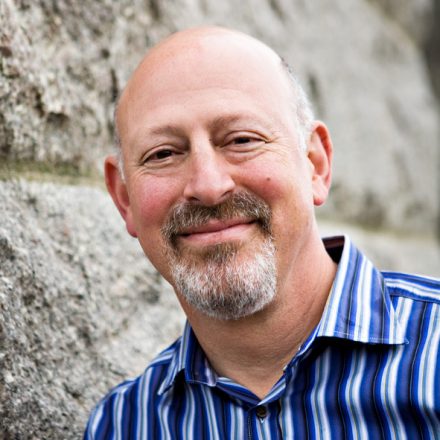 Martin Tannenbaum
Board Member
I was the beneficiary of a special Sha'ar Zahav outreach program – my now-husband Alex Ingersoll recruited me to SZ when we met on the streets of Provincetown Massachusetts.  Since moving here, I've worked to ensure the financial vibrancy of our community – serving as Development chair most of the last 13 years as well as a prior stint on the Va'ad.  I've also served as the past board chair of Keshet (a national organization focused on LGBT inclusion) and as treasurer of both Rhoda Goldman Plaza and Menorah Park – two senior living communities.
I hail from the thriving Jewish community of Salt Lake City, Utah.  I grew up in a mixed marriage: my father was a Conservative Jew, my mother, Reform. I was active in BBYO (B'nai B'rith Youth).  I left "Zion" for Harvard, where I received a BA in English and Psychology.  My MBA is from Boston University in marketing and finance.  I bring 40 years' experience helping nonprofit and for-profit organizations learn, grow and innovate. Current clients include social justice and Jewish organizations – most notably Jewish Family and Children's Services.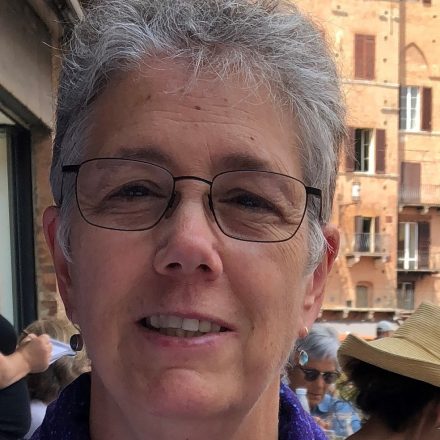 Kelly Thiemann
Board Member
I joined Sha'ar Zahav over 26 years ago when I married my spouse, Ann Bauman, at Sha'ar Zahav.  She joined the synagogue to meet a nice Jewish girl.  She found one — it just took me several years to convert to Judaism. 
I started the Food Chavurah (Oneg Committee) in 2013 with Paul Cohen and served as the Chair for three years.  Ann and I continue to be members of the Oneg Committee and provide food for the Onegs including our chocolate oneg that usually takes place in early January.  I participated in the 2011 Strategic Plan Task Force, the Caregivers of Aging Parents Support Group and have made presentations to the Conversion classes. I am also a member of the High Holiday's Shofar Corps and have recently agreed to be a co-chair of the East Bay Chavurah.  I will be having my adult Bat Mitzvah in July 2019.
I am the immediate past president of a LGBT non-profit organization that combines scuba diving and fundraising.  In addition to diving and traveling, I also like to garden. I am looking forward to deepening my connection with the Sha'ar Zahav community.
Alyss Weissglass
Board Member
I moved to the Bay Area in the beginning of 2019, after being born and raised in Chicago, living in Pittsburgh and Baltimore, and then moving out West when I could go no further East. I fell in love with Sha'ar Zahav not long after my arrival in San Francisco. My childhood cantor recommended I attend, and I found a queer and Jewish community that I sorely needed.
Professionally, I'm a software engineer in biotech, working to accelerate the rate of research across textiles, agriculture, and pharmaceuticals. I'm also an artist, holding a Bachelors of Computer Science and Arts (BCSA) from Carnegie Mellon University, so my copious free time is full of dance, miniature making, and game design. You might also find me at the opera, watching my partner Alicia perform, or riling up our sphynx cat, Shiloh.