Support Us
Give a gift to support a Jewish community that honors and believes in you
2017 Rainbow Campaign
13 years ago, we launched our first Rainbow Campaign so that members and supporters of our diverse and fabulous community could provide critical funding to ensure a vibrant Sha'ar Zahav.
When you want us or need us, we're here for you!
To help you mourn a loss, to provide healing
To celebrate a birth, a b'nei mitzvah, a wedding and other joyous occasions
To ensure your children learn our brand of inclusive Judaism.
To create a more welcoming world for LGBTQ Jews everywhere
To observe High Holy Days in an affirming and welcoming community
To create a safe space for refugees and others who have been marginalized
In this season of renewal and re-commitment, please make a generous commitment to our community by completing our online pledge form:  2017 Rainbow Online Pledge Form
Give a Majo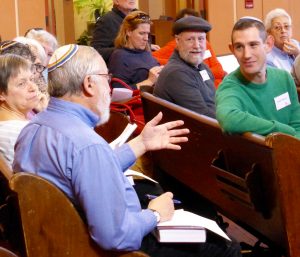 r Gift:  The Chai Campaign
The Chai Campaign is a way of offering congregants, family and friends of Sha'ar Zahav the opportunity to make and be recognized for significant, sustaining investments in projects that help us transform and strengthen our community. The Chai Campaign provided funds to publish our siddur and the seed money to fund hiring our cantor.
Our current initiatives are:
        Strengthening our  liturgical musical program with guest musicians

        Refreshing our building with a kitchen upgrade and new sanctuary chairs


        Supporting housing assistance to attract our new settled rabbi

        Revitalizing our school, Beit Sefer Phyllis Mintzer
How to Donate
Mail
Donations can be sent by mail to (please make checks out to "Sha'ar Zahav":
Sha'ar Zahav
290 Dolores St.
San Francisco, CA 94103
Online
By Phone
Call CSZ at 415-861-6932 to make a donation over the phone.